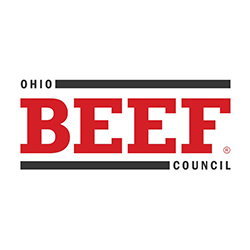 Ohio Beef Council
The Ohio Beef Council (OBC) is a non-profit 501(c)(5) organization charged with the promotion and marketing of beef and beef products in Ohio. Checkoff dollars are used to increase beef demand through programs of promotion, research and education. The organization is directed by a 15-member Operating Committee of cattlemen appointed by the Ohio Director of Agriculture, representing the state's beef and veal producers.
The National Beef Checkoff Program was established as part of the 1985 Farm Bill. The checkoff assesses $1 per head on the sale of live domestic and imported cattle, in addition to a comparable assessment on imported beef and beef products. The checkoff assessment became mandatory when the program was approved by 79 percent of producers in a 1988 national referendum vote.
The checkoff is collected by state beef councils, like the OBC. Half of each dollar is forwarded to the Cattlemen's Beef Promotion and Research Board (https://www.beefboard.org/) (Cattlemen's Beef Board) which oversees the national checkoff program, subject to USDA review. The other half of the dollar is retained by the OBC to fund state-based programs, which complement and extend the industry-wide effort. Independent research shows that the checkoff has increased profit opportunities for producers, netting a return of $5.55 for every dollar invested.
In March 2014, a state checkoff of $1 was added to the federal $1 checkoff through a referendum that was approved by 72 percent of Ohio's beef producers who voted. The state checkoff went into effect in June 2014. The Ohio Beef Council Operating Committee also directs the investment of state checkoff funds to extend beef's presence in Ohio's schools, conduct public relations outreach and farm tours for Ohio's food professionals, directly connect with consumers through spokesperson training programs, provide nutrition seminars for health professionals and develop a greater statewide media presence through radio, print and social media – all of which help to reach Ohio's 11.5 million consumers with a beef message.
OBC dates back to 1970 when Ohio beef producers voted to establish a 10 cent per head voluntary state checkoff. In two different votes prior to the 1985 Farm Bill, Ohio producers voted to increase their state checkoff. In Ohio the current beef checkoff program operates under both state and national authorities and totals $2 per head.